Luxury aficionado or not, everyone knows the iconic Louis Vuitton monogram canvas and their Speedy handbag. Among the top 3 luxury design houses, the iconic bags from Hermes (Birkin, Kelly & Constance) and Chanel (Classic Flap & 255) are leather and hence one of their most expensive bags, while Louis Vuitton's Canvas Speedy remains an entry level bag due to its price point. It is one of the reasons why it's many peoples first luxury designer handbag.
The classic version of the bag consists of a large piece of canvas encompassing the structure which gives it its unique upside down LV logo on one side of the bag. 2 other pieces of canvas forms the sides. The Louis Vuitton canvas is sturdy, and made to last since it was initially crafted for travel use. It is also water and scratch resistant. The top handles and the piping trim are covered with untreated premium cowhide leather also known as Vachetta. Vachetta leather tends to patina/darken with its exposure to the elements turning into a honey shade and eventually to a dark brown colour.
"Made from iconic Monogram canvas, the Speedy 30 is an elegant, compact handbag, a stylish companion for city life. Launched in 1930 as the "Express" and inspired by that era's rapid transit, today's updated Speedy remains a timeless House icon, with its unmistakable silhouette, rolled leather handles and engraved, signature padlock."
Here are 10 facts you may not know about Louis Vuitton Speedy:
The Speedy was introduced in the year 1930 and was the first handbag offered to its clients by the french luxury house.
The design is a smaller version of their popular travel duffle bag "Keepall" and was produced so that travellers can use it to keep the items they wanted to keep handy while travelling.
Speedy was initially know as Express, inspired by the eras rapid transit, later became known as the Speedy .
Speedy was first introduced in plain canvas. Monogram Canvas version was introduced a year after its release.
The Speedy was initially available in three sizes 30, 35, and 40. Size 45 becomes a keepall.
In the year 1965, Audrey Hepburn requested for a smaller version of the Speedy, and hence Speedy 25 was created.
The numerical size names refer to the width of the bag's front panel in centimetre.
Today, the Speedy is part of Louis Vuitton's permanent collection, offered in 3 canvas option, i.e. LV Monogram, Damier Ebene & Damier Azur and 4 size options 25, 30, 35 & 40.
Louis Vuitton became even more iconic after 1997 under Marc Jacob's creative direction and various artist collaborations. Over the years Speedy has seen a lot of makeovers, with various limited edition offerings. The current offering of the coveted Nano Speedy is an example of the house's take on revamping the iconic style to keep up with the trends.
The Speedy Bandouliere was introduced in 2011. Bandouliere in french means strap. This enabled the iconic bag to be worn on the shoulder and cross body due to the removable shoulder straps option.
The Speedy has withstood the test of time and gained the tile of a coveted classic. I really believe every luxury bag lover needs one in their collection. Here are some tips to help you pick yours:
The size:
Size 30 remains the most popular and versatile size. It's the size most people go for since its not too big nor too small. If you are petit like Audrey Hepburn, size 25 is for you. If you are a taller women, then you might wanna go for the 35. Size 40 is great if you prefer bigger bags. It's alsp great for travel use or for moms as a diaper bag.
The Canvas:
Classic Monogram: This is the most iconic and hence you will see a lot of people carrying it. Another thing to consider is the patina on the untreated leather handles and trims. If you live in a place where it rains frequently, it will stain the leather. If that doesn't bother you than you should defiantly consider this print. Another option is to wrap the handles with ribbons or a scarf to keep it protected.
Damier Ebene: A lot of people prefer this print because of the treated leather handles it comes with. The treated handles and trim with canvas makes this an extremely durable bag. The checkered Damier Ebene print is very understated compared to the classic monogram which makes it more versatile. If you don't like babying you bag, than this is the one for you!
Damier Azur: Damier Azur is the perfect summer print! If you live in a warmer place than you should definitely consider this option. The white canvas along with the untreated leather handles and trim makes this bag a little less durable compared to the other 2 options.
Bandouliere Or Classic:
This depends on your usage and the look of the bag. If you love the look of the classic and you don't carry a lot than you should go for the classic style without the strap. I prefer the Bandouliere version because the straps are removable if you don't need them but with straps its much more versatile and easy to carry. Another thing to consider is the slightly higher price point of the Bandouliere version.
The Final Verdict:
They say that "There is a speedy for everyone!" Louis Vuitton frequently release their new take on this iconic classic with plenty of limited edition designs. You can explore their current offerings of the limited edition speedy bags or browse the vintage market until you find the one your heart desires.
I always wanted to have one in size 30 in the classic monogram canvas but I really don't care for the untreated leather since I am the kind of person who would be bothered if it got any stains. I love Birkin and Kelly Handles covered with twillys but I am not a fan of covered handles on a speedy, so it wasn't an option for me. I love Damier Ebene on an Alma BB but for the speedy I really didn't care for either of the Damier prints.
This changed with their release of the limited edition Speedy Bandouliere 30 My LV World Tour! This version enables you to choose a black trim with the classic Monogram. The only thing holding me back this time is that you need to have at least 1 sticker from their world tour selection and that it's a made to order bag, which means once you place an order, it will take them at least 8 weeks to make it for you.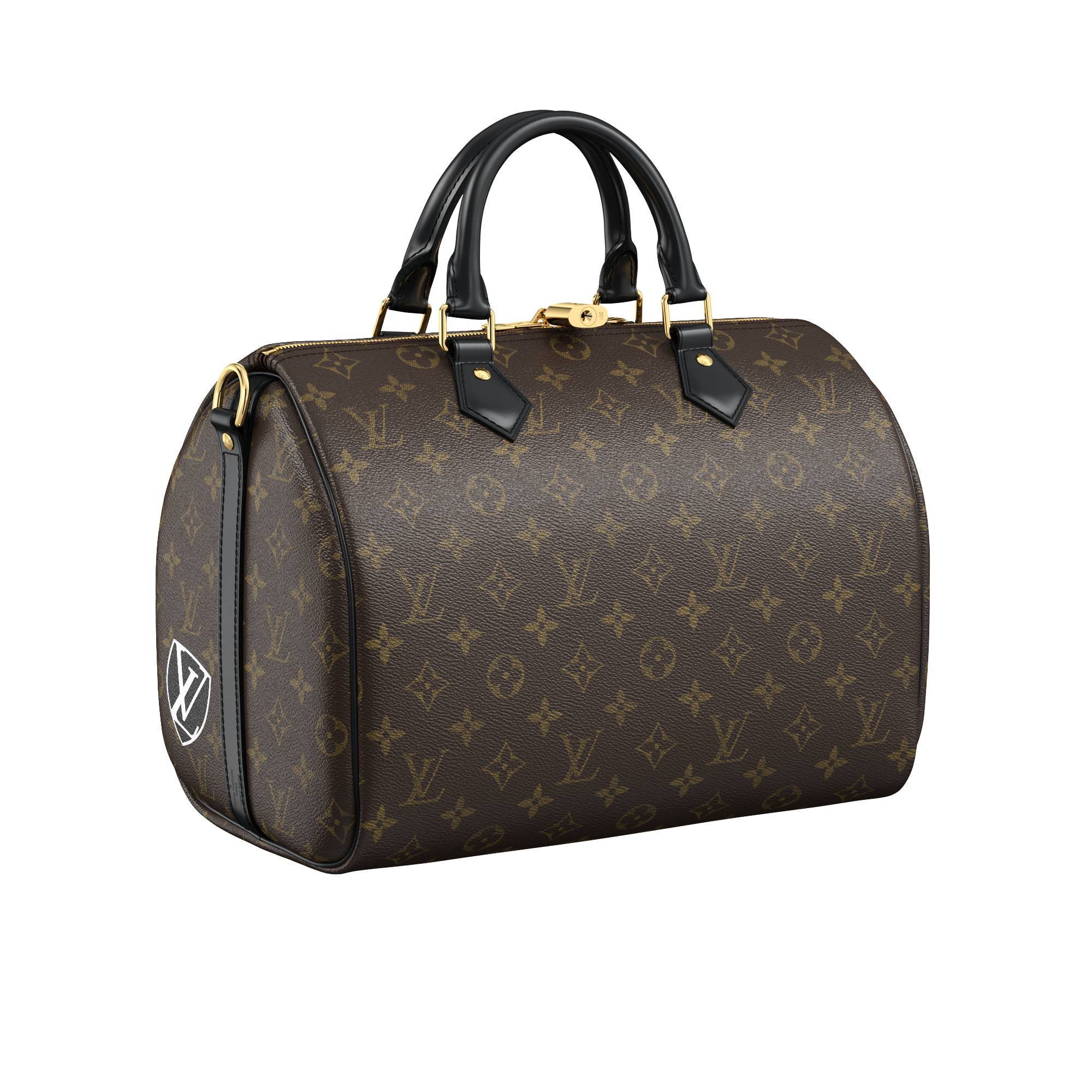 After considering buying it a few times I always ended up buying other bags that I could have right away since I really din't have the patience to wait for it. Despite of that after over a year of it's release, My LV World Tour Speedy has remained on my wish list and I have finally decided to order one. I might do a blog post sharing my experience and review when I receive it. The one above is the one I picked.
What are your thought on the Speedy? Do you own one? I would love to know. Let me know in the comments down below or over on my Instagram @lilysthought__